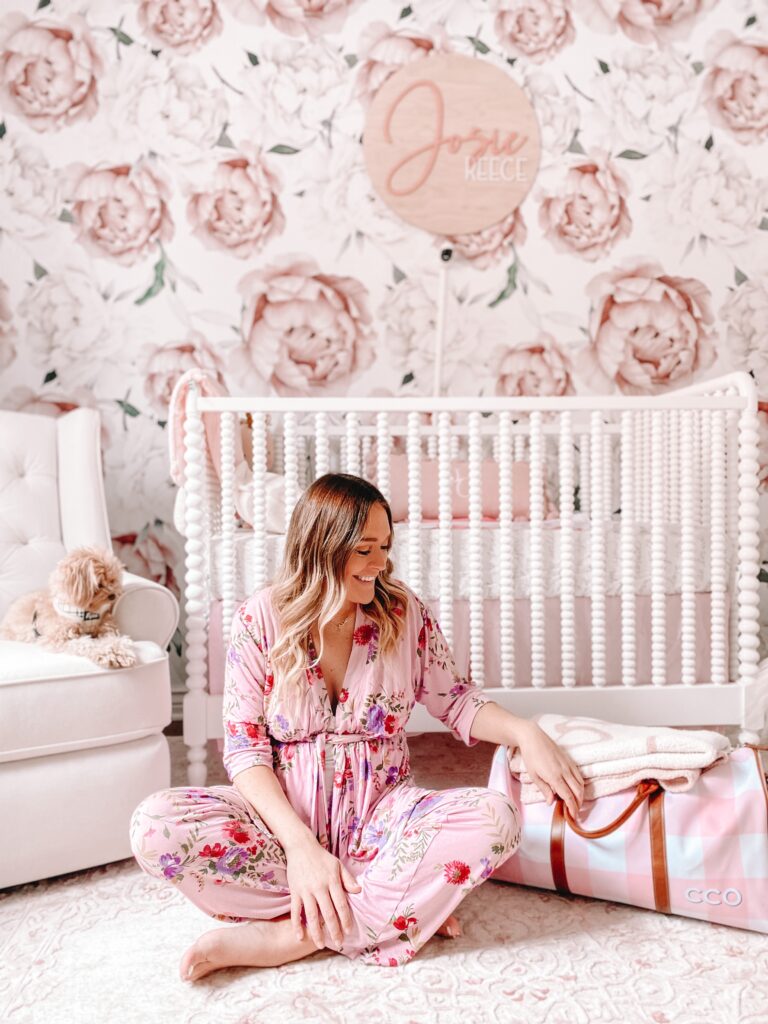 I originally intended for this post to go live before baby girl got here, but she ended up coming early to our surprise- so I decided to wait and make this post all about what I ended up actually using in my hospital bag.  I loved getting all the advice from previous mama's who gave birth on what they brought and their "necessities" so if I am helping at least one mama to be out then I am more than happy. 🙂
For Mama:
The Bag!– First things first, need a great bag to transport everything in.  I chose this Barrington Gifts monogrammed travel bag as my hospital bag and I'm in LOVE!! There are so many customizations, patterns, etc, and would make a great weekender bag after the fact!
Comfortable Pajamas– Mine is the Everly Grey 5 Piece Maternity set and they are like butter-soft.  I love how it comes with the top, pants, robe, and even a matching set for baby.
Nursing Tanks– Bringing this one by Kindred Bravely along in case I need to change into it at any point.  Super easy for nursing and very comfortable!
Nursing Bras– Love this pack of 3, comfortable and easy. – Update: these are the best!!
Slippers– a must!! The hospital can get cold, so these were necessary. Bring a pair for the hubby too.
Flip Flops– For the shower! I ended up showering there as I wanted to get a few pictures in, so if you plan to shower I would definitely recommend some flip flops.
Pillow- This is definitely a preference thing, but I LOVED having my own pillow with me.
The hospital provided me with:
Nipple Cream
Nursing Pads
Mom Washer
Perineal Balm
Witch Hazel Pads
Toiletries:
Shampoo, Conditioner & Body Wash- The hospital did have some generic stuff, so I am glad I brought my own!
Bath Towel- Having your own sounds so much better than using a hospital towel.
Face Wipes, Cream, Deodorant, Toothbrush & Toothpaste-  all necessities!!
Other Items to consider:
Long iPhone chargers– A must… the outlet was far away from the bed.
Portable Speaker– Used this when we were sitting around waiting for 12+ hours (!!) and during labor.
Portable Fan– A great thing to have for active labor.. highly recommend.
Yeti or a big Water Bottle– Great way to stay hydrated and keep your water cold. Update: The hospital had the BEST water cups and kept refilling, so you don't necessarily need to bring this but I know some would rather have their own.
Snacks- We were able to leave the room to get snacks, however, I brought some crackers, Gatorade, granola bars, etc just to have on hand and we ate them all! 🙂
For Baby: