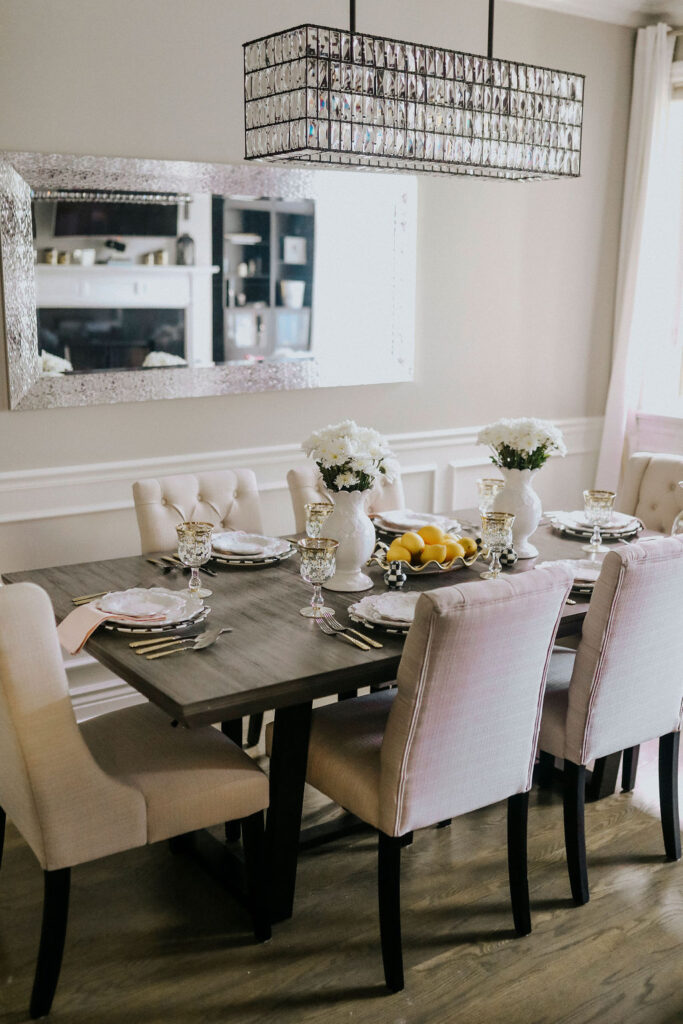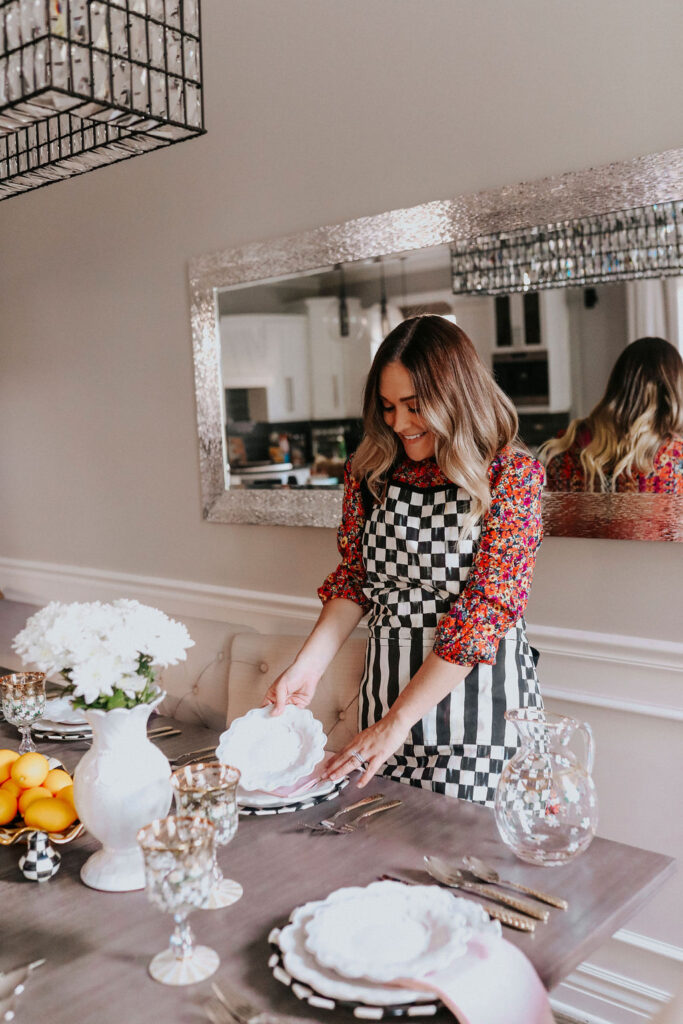 I am so excited to share my summer tablescape with you all! Earlier this year before all the craziness in the world, I attended a super fun event with the MacKenzie-Childs team in Chicago.  I had heard of the brand before, but I really got to learn so much about the brand and all of the different pieces… which instantly made me a fan for life.
If you're not familiar with MacKenzie-Childs yet, they are a home decor and furniture company based out of Aurora, NY that hand paints a majority of their pieces.  Their most popular print is the "Courtly Check" which is the famous black and white checked pattern you will see on a wide array of products.  In addition to selling their pieces in Aurora, they can be purchased directly from their website, which has hundreds of amazing pieces to choose from.  At the event, we were introduced to a MacKenzie-Childs painter and it was so interesting to see how the custom-make each and every piece.  The pieces are on the pricier side, but after seeing how they are custom made, it makes sense as to why people are so dedicated to the brand and will build up a collection.  If you're looking for a wedding gift, a housewarming gift, or just a little something for yourself, MacKenzie-Childs would be a perfect choice- there is something for everyone to enjoy!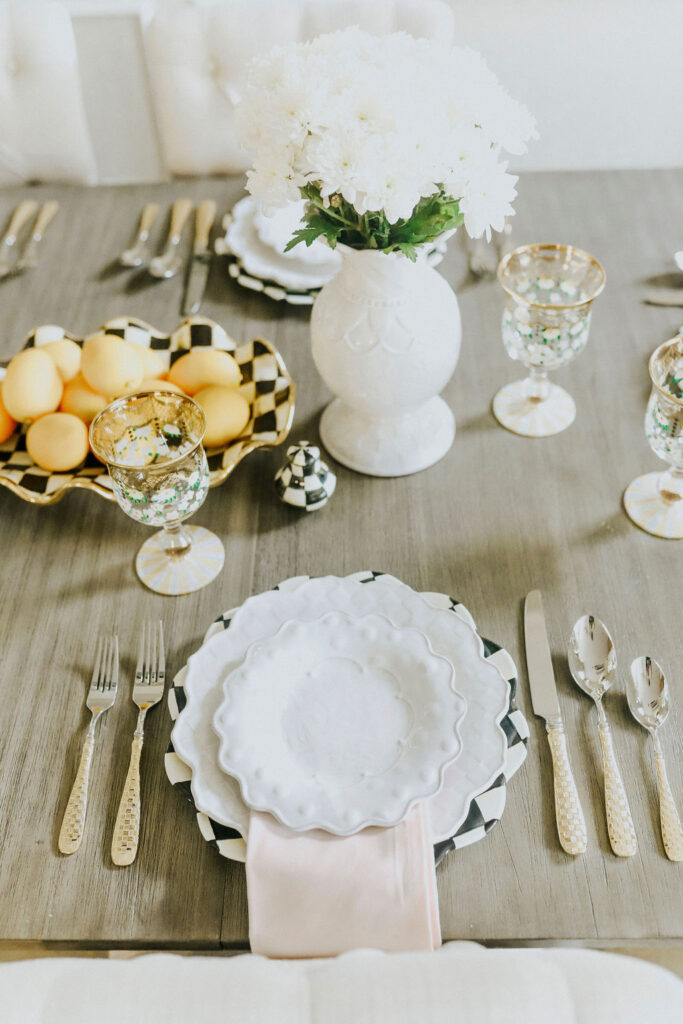 For my summer tablescape, I decided to do a mixture of Courtly Check and Sweetbriar pieces.  I absolutely love the classic and timeless look of the Courtly Check pattern, but I also was very much drawn to the simplicity and femininity of the Sweetbriar collection.  I love how all the collections can easily be mixed and matched and look good for any seasonal decor.  First I picked out the Courtly Check chargers and decided to go with the Sweetbriar white dinner & salad plates.  These plates are absolutely gorgeous and blow any other dinner plates out of the water.  I also chose the Sweetbriar water glasses and water pitcher and the detailing on these is impeccable.  These pieces alone would wow any dinner guests, that's for sure.  The pink napkins and the gold checked flatware are the perfect pop of color to compliment the neutral pieces.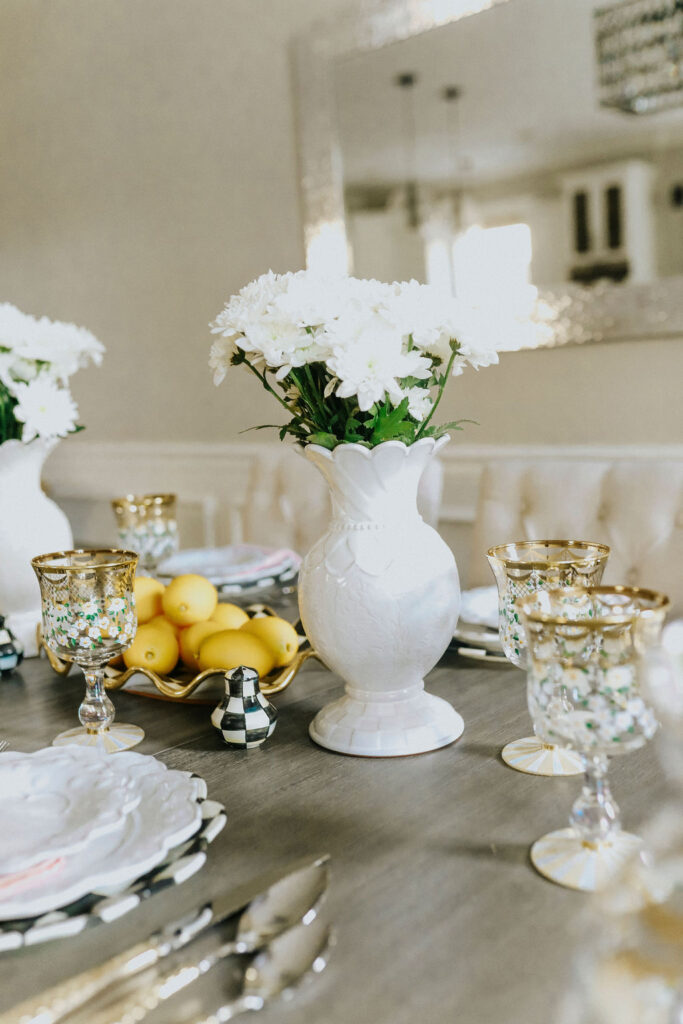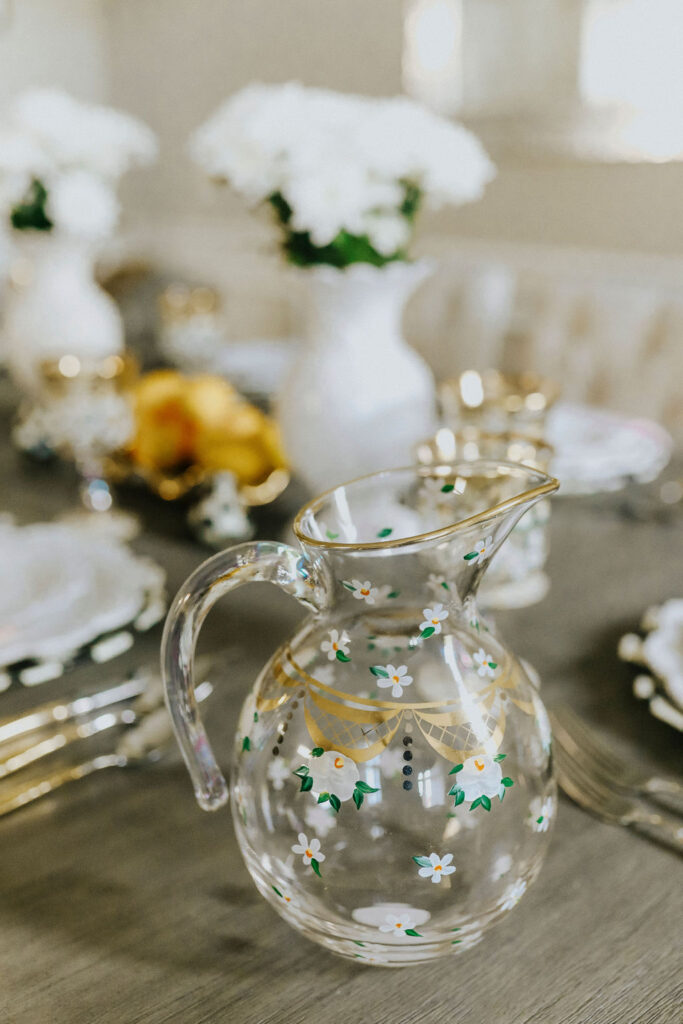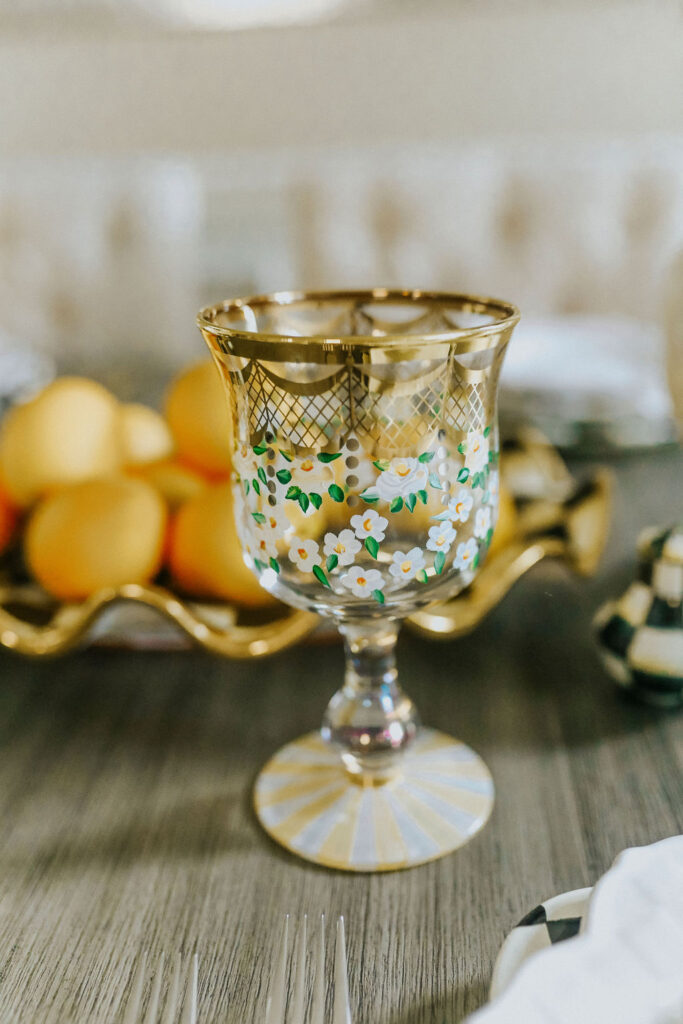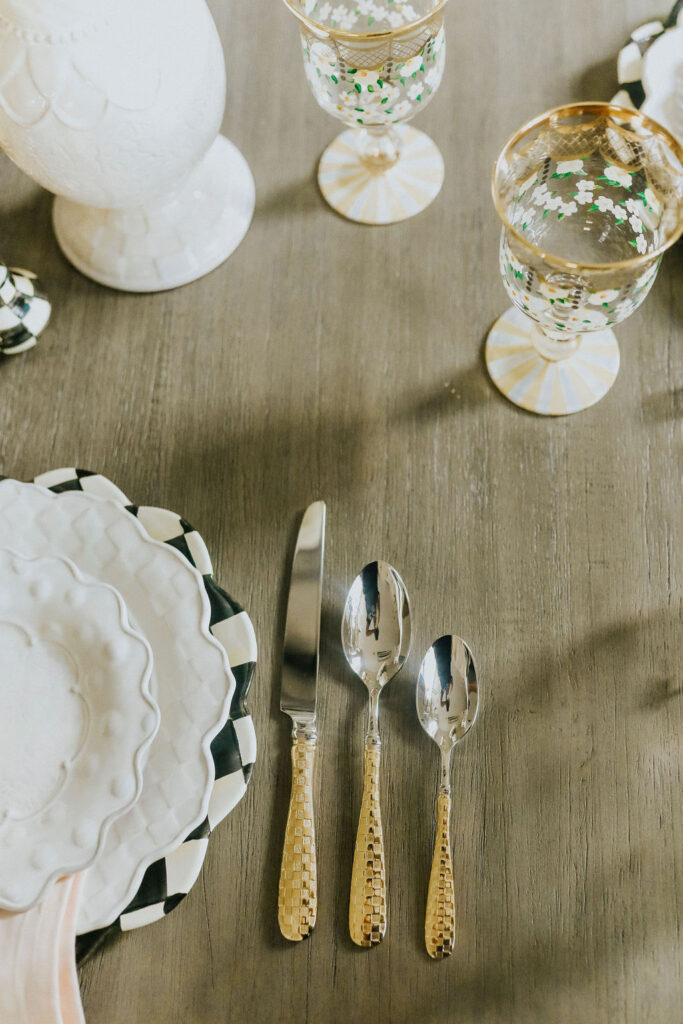 At the event I attended, we got the opportunity to learn how to make the perfect floral centerpieces, and I was lucky enough to go home with a beautiful white vase from the Sweetbriar collection.  I loved it so much that I decided to get a second one to add to my table!  This vase looks perfect on any table and would really go with any pieces, MacKenzie-Childs or not.  I also really love the Courtly Check platter that can easily be used to hold decor (like I did here with the lemons) or with any food to pass.  I've used to make a charcuterie board when having friends over, and also to display cookies!  Lastly, no table is complete without salt and pepper shakers, and these mini ones were the perfect addition to round out the table.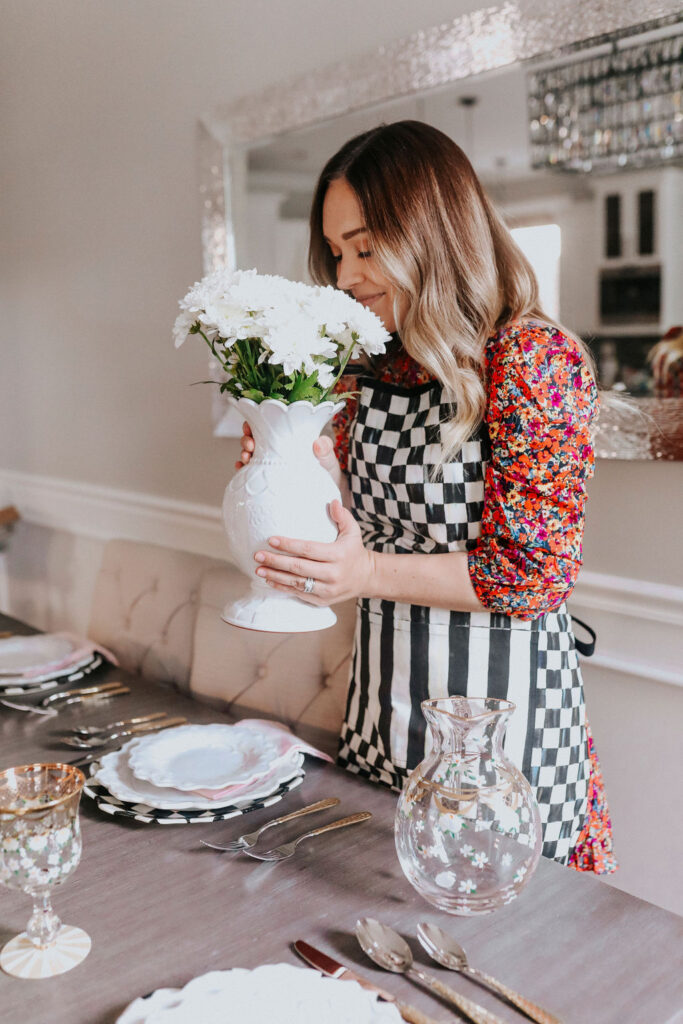 Do you have a favorite MacKenzie-Childs piece?  Each and every piece would truly make the perfect gift and it's never too early to start thinking about the holidays! I can't wait to incorporate some of these MacKenzie-Childs pieces into my fall and winter tablescapes as well… stay tuned! xo

Thank you MacKenzie-Childs for sponsoring this post.  As always, all opinions are my own.