Happy Wednesday!! This might be my favorite post I've ever done because it's all about baby O!  Matt and I are SO excited and can't believe that she will be here in May… only two months to go!  Ever since I found out I was pregnant, I have been doing tons and tons of research on the best baby products and what makes the most sense to register for.  Unlike registering for our wedding, I found baby registering to be a tad bit more overwhelming since all of these products were brand new to both of us and we wanted to make sure we were getting products we actually needed.
Registering at buybuy BABY
I was super excited to visit buybuy BABY and learn all about their Registry process, as well as learn more about some products I had my eye on!  From the moment I walked in the door, I instantly felt welcome by the staff.  They were super helpful in getting a registry set up so I could start scanning and asked me questions about which products I was interested in the most, etc.  It's amazing to me how one store could have everything you possibly need for a baby to be, from diapers to furniture to baby clothes. I even noticed a "Mom's lounge" where they have changing tables and chairs to nurse available. Definitely a one-stop-shop for everything baby!! There are tons of perks included in creating a registry at buybuy BABY, including:
Meet with a registry expert- they know ALL things baby! I found it super helpful to have someone walk around and explain different products with me (how they work, why they could be beneficial)
15% off completion discount- if any items on your registry aren't purchased, you can save 15%!
Free goodie bag- tons of samples, coupons, etc!
Thank you list- you can easily track the gifts purchased so you remember who to send those thank you cards to.
Registry Returns are hassle free- if you receive something you no longer think you'll need, you can return it for up to a whole year!
Free Shipping rewards- free shipping for your baby's first year when the value of gifts purchased from your registry exceeds $1,500
& more!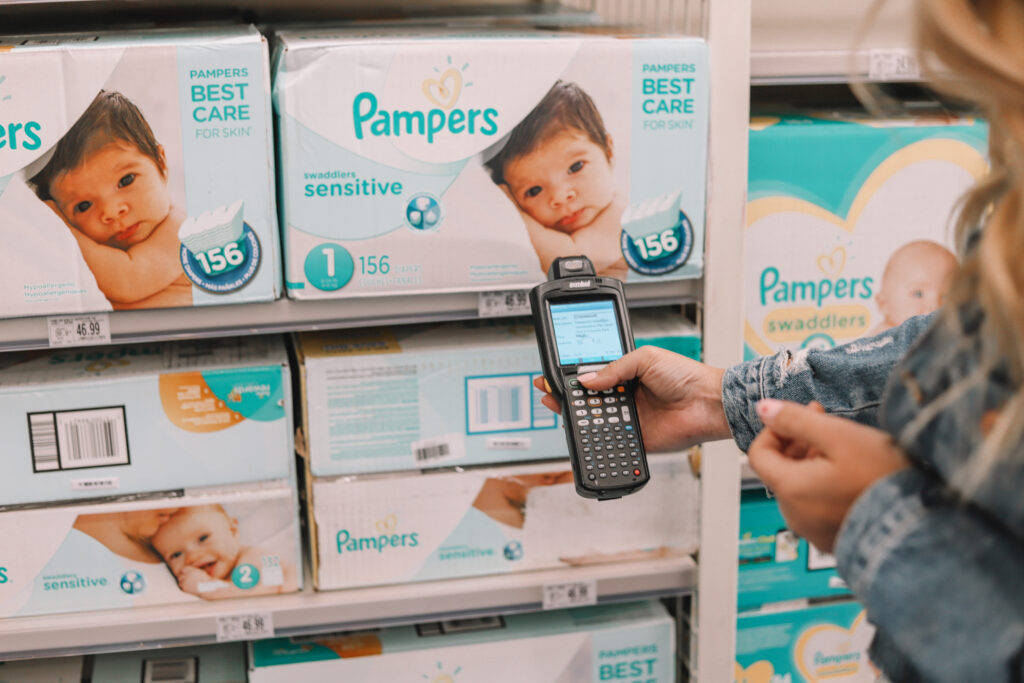 Favorite Products
I saw SO many amazing products that I know would be perfect for Baby O, but I wanted to share some of my favorites!
The ADORABLE clothing.  buybuy BABY has an entire section dedicated to both boy's and girl's clothing and accessories, and I was in heaven.  I found the cutest spring rompers, little jean jumpers, Adidas jumpsuits and a plethora of bows.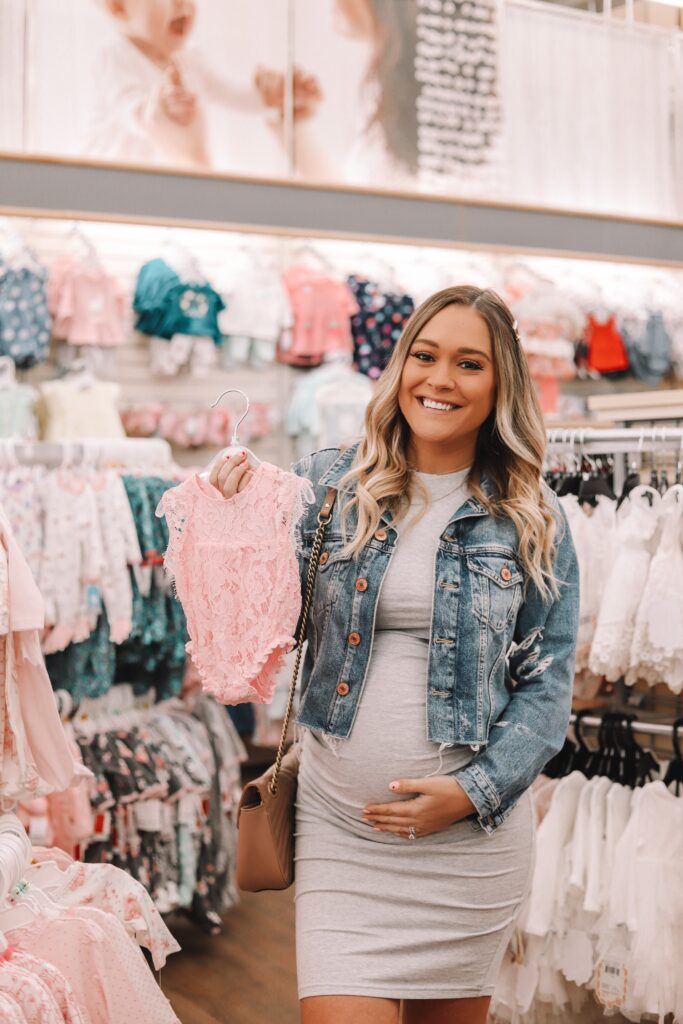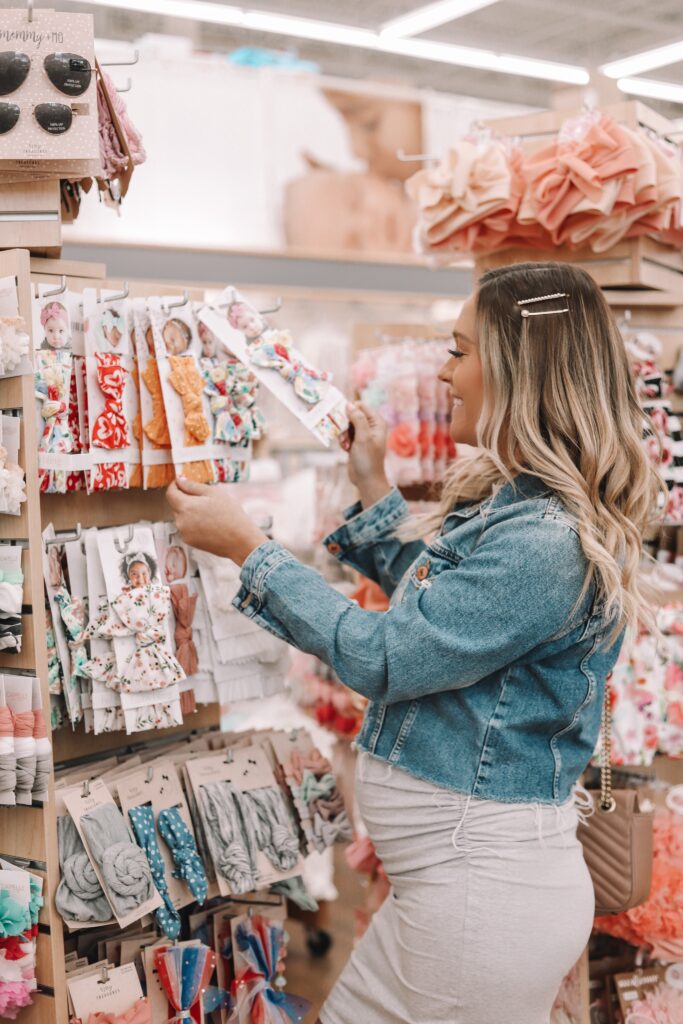 2. Owlet Smart Sock + Cam Complete Baby Monitor System– I have heard nothing but amazing things about the Owlet and knew I wanted to add it to my registry.  With this sock & cam, you can hear, see and know if your baby is okay at all times, you can track the baby's heart rate and oxygen level through the sock and use the app to see real-time wellness data and notifications.
3. UPPAbaby Stroller & Car Seat–  I spent a good amount of time in the stroller department because I knew this was a big decision and an investment piece. I decided to go with the brand new UPPAbaby Vista V2 stroller & Mesa Car seat, and I couldn't be more happy with my decision.  Getting to test out all the strollers in person at the store was amazing and made me feel really confident in my decision.  Another one I loved was the UPPAbaby Cruz stroller (more affordable and still a solid choice!)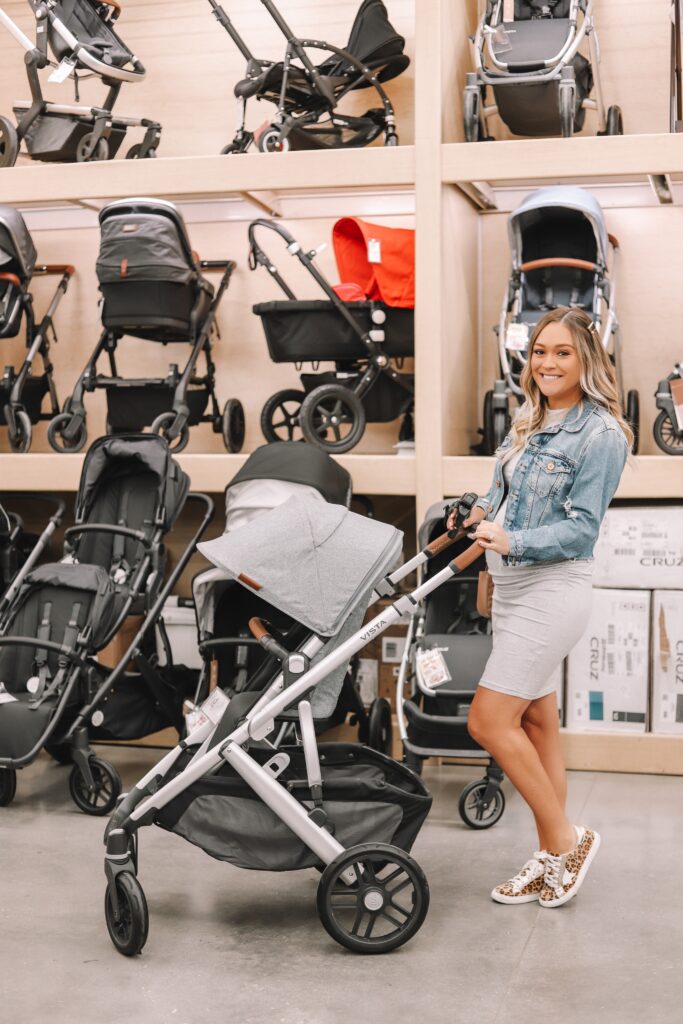 4. Activity Gyms– There are so many options for this and I ultimately decided to register for both the Carter's Sweet Suprise Play Gym and the Skip Hop Activity Center.   I thought this one was SO cute and perfect for a little girl (they do have an Ocean theme and Arctic theme that are both awfully cute too!)
5. Silicone Bibs– I immediately added these adorable silicone bibs to my registry and love how they have a little pouch to help collect food when baby is eating (because we all know they can be messy!) and these bibs are super easy to wipe clean, instead of having to throw into the washing machine.  They come with so many cute little sayings on it… I think my favorite is the "Feed Me & tell me I'm Pretty" one!!
6. Diaper Pail–  This is a must for any nursery!  There will be a lot of diaper changing happening in this room, so keeping them in something to block out of the odor is a must.  I didn't really quite understand how the Diaper Pails work, but my consultant showed me exactly how to use them and which ones she thought were best. I ended up registering for the Ubbi Diaper pail and love how it comes in 12 different colors.  I decided to go with white as I thought it would match the room the best, but there are endless options as sure to be one to fit every nursery.
7. DIAPERS!- Speaking of diaper pails, diapers are an obvious must.  We decided to do a diaper raffle for the Baby Shower,  so I made sure to add some diapers to the registry because I know for sure once baby O comes I am going to need a lot of them.  I've heard great things about the Pampers Pure Brand as well as the Honest diapers, so I am excited to try both and see which ones ultimately work best for her.  I know all babies can react differently to diapers and products, so having a bit of a variety would be ideal in figuring out which ones work best!
Below are some more of my "must-have products." I'd love to hear if there is anything I may be missing or any products you absolutely loved with your babies!  I know I will be spending a lot of time in buybuy BABY once the babe is actually here!!
Freshly Picked Leopard Diaper Bag (comes in a bunch of colors!)
UPPAbaby Vista V2 Stroller with Bassinet (comes in 9 colors)
*Thank you to buybuy BABY for sponsoring this post. All opinions & product selections are my own.